Copyright ©2003-2007
OUR SITE OF THE HOUR:
Provided by
MedicineNet
Friday, November 16, 2007
Food For Thought Scripture #29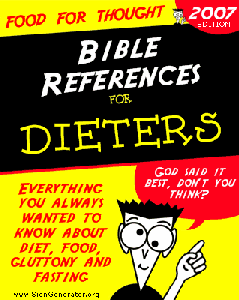 Joe 2:12 "Even now," declares the LORD, "return to me with all your heart, with fasting and weeping and mourning."
Posted at 12:36 am by editor
Permalink
Wednesday, November 14, 2007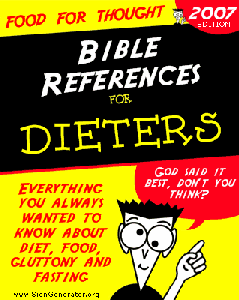 Meat
"Everything that lives and moves will be food for you. Just as I gave you the green plants, I now give you everything." Genesis 9:3

Posted at 02:25 am by editor
Permalink
Monday, November 12, 2007
Eze 16:27 Behold therefore, I have stretched out my hand over thee, and have diminished thine ordinary food, and delivered thee unto the will of them that hate thee, the daughters of the Philistines, that are ashamed of thy lewd way.
That sums it up perfectly for us awakened dieters. Our ordinary food was extraordinary and now it is diminished. We have been delivered to the sluggish metabolisms and it works against us at the slightest variant in our diet routine. We fall off the wagon one bump at a time and we are ashamed at our lewd relapses.
O.K, I did add some writer liberties in this descriptive passage, but I assure you we all have days that feel like that. It is so difficult to live the "perfect" diet day, day-in and day-out. It becomes burdensome to know that although we have long ago repented at our gluttony ways, our body does not react immediately. It is even harder to come to grips that it was God that stretched out His hand upon us to catch our attention in this manner.
But such is life. We can now fully conscious of the fact, feed the flesh, or feed the spirit. The spirit is so much more fulfilling, yet we have become so familiar with the flesh that we hate to lose touch with it. Our encouragement comes that God is Spirit and those that worship Him must worship Him in the spirit. Is that enough to make us pass up that next meal that will be too abundant for the body to process without punishment? We have choices, and we have free will. Let us choose to be delivered from the daughters of the Philistines!
Posted at 01:49 am by editor
Permalink
Friday, November 09, 2007
Food For Thought Scripture #28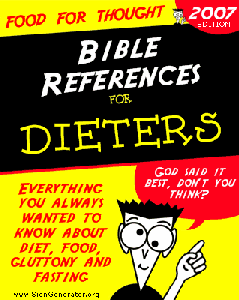 Gen 3:18
Thorns also and thistles shall it bring forth to thee; and thou shalt eat the herb of the field;
Posted at 02:32 am by editor
Permalink
Wednesday, November 07, 2007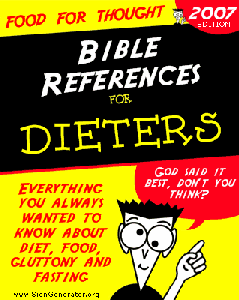 Honey

"Then their father Israel said to them, If it must be, then do this: Put some of the best products of the land in your bags and take them down to the man as a gift, a little balm and a little honey, some spices and myrrh, some pistachio nuts and almonds." Genesis 43:11
Posted at 02:16 am by editor
Permalink
Monday, November 05, 2007
Exo 16:3 And the people of Israel said to them, "Would that we had died by the hand of the LORD in the land of Egypt, when we sat by the meat pots and ate bread to the full, for you have brought us out into this wilderness to kill this whole assembly with hunger."
This pains me to write on this verse. Can you imagine accusing someone and God of intent to kill you with hunger? Outlandish! Yet for those that will not embark on a diet, this is mumbled under the breath. How many times I have heard, "I can't diet. I am hungry all the time." Feeling the tummy grumble occasionally becomes the biggest obstacle in someone's life. We have become so accustomed to eating like clockwork and to eating in over abundance that we have become undisciplined and ungrateful to all the many blessings we have. And the great blessing is a second chance at returning the body to a normal and healthy weight.
We ask God to bless us with health and weight loss, yet grumble if we actually have to contribute a sacrifice to our desire. We cannot have our cake and eat it to, so to speak. We can't complain of the inconvenience because it was strictly us that allowed our weight to spin out of control. And God clearly shows us His plan to normalcy again as we choose to accept it or decline.
For those of us that have hung in there, in only a few weeks time, we realize the body and mind are less demanding and we become satisfied with our daily bread. Our complaints subside as we adjust to the reasonable portion that God plainly shows to us we must now eat. What a shame for those that do not go past those first few weeks to find out weight loss is clearly superior than weight gain.
In this instance only, let us have a convenient memory and forget the plentiful meat pots and bread, and continue to feast on the Lord Jesus Christ who has given us the Plan to victory over the flesh.
Posted at 03:07 am by editor
Permalink
Friday, November 02, 2007
Food For Thought Scripture #27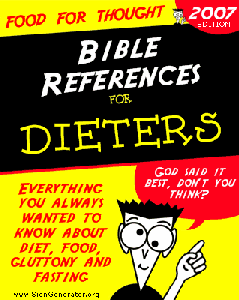 Psa 78:25
Man did eat angels' food: he sent them meat to the full.
Posted at 01:39 am by editor
Permalink
Wednesday, October 31, 2007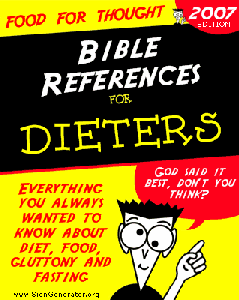 Honey

"...honey and curds, sheep, and cheese from cows' milk for David and his people to eat. For they said, The people have become hungry and tired and thirsty in the desert." 2 Samuel 17:29

Posted at 02:59 am by editor
Permalink
Monday, October 29, 2007
Jas 2:15-16

If a brother or sister be naked, and destitute of daily food, And one of you say unto them, Depart in peace, be ye warmed and filled; notwithstanding ye give them not those things which are needful to the body; what doth it profit?

The context of this verse is certainly to alert us to charity and good works and loving our neighbor as ourselves. Yet, we cannot help but to note that food indeed is needful and that as dieters we must face either being in subjection to it, or being in control over it. Food became an addiction to us, and although it is not the most difficult of all addictions to overcome, unlike those in bondage to alcohol or drugs, it is not something we can put down, walk away from, and never have to face our temptation again if we so choose. So we have a dilemma, and God is the only one that can show us the route of escape.

Therefore we need to study the Scriptures if we are sincere in seeking weight loss. And we need not meditate far when we recall Paul saying, "I have learned the secret of being content in any and every situation, whether well fed or hungry, whether living in plenty or in want. I can do everything through him who gives me strength." God does not require abstinence; He requires contentment. God does not require we become super human; He provides His strength. God does not hide the solution; He reveals the secret. God does not demand all or nothing; He teaches us in either plenty or want.

Those are keys to the Kingdom of heaven. We have lived in plenty and overabundance with food. Now, as dieters, we might tip toe through want, but as we see the blessing of weight loss occur, we learn to be content. We learn obedience is far more satisfying than plenty. We learn to ask forgiveness when we took advantage of plenty and we learn to thank God for just enough fuel in our bodies to keep us efficient. Thank You, Lord for awakening us to the true riches of the Kingdom of heaven---contentment without remorse.

Posted at 02:07 am by editor
Permalink
Friday, October 26, 2007
Food For Thought Scripture #26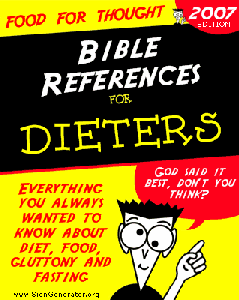 Luk 5:33
And they said unto him, Why do the disciples of John fast often, and make prayers, and likewise
the disciples
of the Pharisees; but thine eat and drink?
Posted at 05:51 am by editor
Permalink