Copyright ©2003-2007
OUR SITE OF THE HOUR:
Provided by
MedicineNet
Friday, October 26, 2007
Food For Thought Scripture #26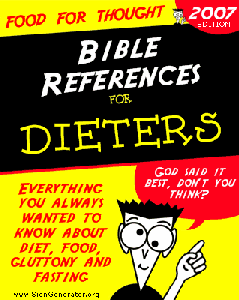 Luk 5:33
And they said unto him, Why do the disciples of John fast often, and make prayers, and likewise
the disciples
of the Pharisees; but thine eat and drink?
Posted at 05:51 am by editor
Permalink
Wednesday, October 24, 2007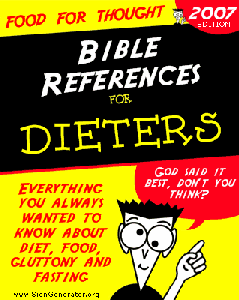 Honey
But Jonathan had not heard that his father had bound the people with the oath, so he reached out the end of the staff that was in his hand and dipped it into the honeycomb. He raised his hand to his mouth, and his eyes brightened." 1 Samuel 14:27

Posted at 02:06 am by editor
Permalink
Monday, October 22, 2007
Luk 1:45
Indeed you are blessed, because you have trusted that the promise Adonai has made to you will be fulfilled. (CJB)
So little is said when we are blessed with weight loss compared to the complaints we vocalized through the years we either gained or could not lose weight. Today we focus on how we are blessed indeed the moment we began to trust God that He could indeed deliver us from the bondage of obesity.
Somewhere deep within us the Holy Spirit dropped a thought within us that with God all things were possible. We clearly understood on our own we just could not be successful at weight loss. We lacked the drive, the will power, and perhaps even the praise to put wings upon our prayers for our victory in this area. We wrestled with doubt, unwise choices, and stomachs that we carefully spoiled to grumble every few hours.
Now we have carefully crossed over to evidence realized and seen that not one of our prayers for help fell to the ground. One day we began to trust God that He was indeed going to perform His word to us and bless us in this area. The waiting time gave us patience as well as knowledge as how we could do good for our body as God gave us the strength to stick to our Plan each day.
God's promise to us has been fulfilled. He is able to do what He has said He would do. He has given us the desire of our heart to wrestle this flesh under control and to return to the land of normalcy. Let us praise and worship Adonai for all He has done and all that He yet will do!
Posted at 02:52 am by editor
Permalink
Friday, October 19, 2007
Food For Thought Scripture #25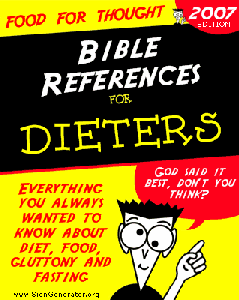 Gen 42:7 And Joseph saw his brethren, and he knew them, but made himself strange unto them, and spoke roughly unto them; and he said unto them, Whence come ye? And they said, From the land of Canaan to buy food.
Posted at 02:09 am by editor
Permalink
Wednesday, October 17, 2007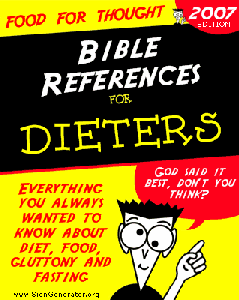 Herbs
"A jar of wine vinegar was there, so they soaked a sponge in it, put the sponge on a stalk of the hyssop plant, and lifted it to Jesus' lips. When he had received the drink, Jesus said, It is finished. With that, he bowed his head and gave up his spirit." John 19:29-30
Posted at 01:38 am by editor
Permalink
Monday, October 15, 2007
Num 11:5
We remember the fish, which we did eat in Egypt freely; the cucumbers, and the melons, and the leeks, and the onions, and the garlic.
On the surface this verse sure appears to be a healthy diet and we could dismiss it as a job well done. But the gist of the verse for dieters is, "We remember...we did eat freely." Even as we escape bondage we have the familiar and comforting memories of the days we ate to our excessive heart's content. To complicate it even more so, many of these excessive meals were done under the guise of freely, when we gathered at family or friends homes for a social event and was supplied, for free, an over-abundance of foods. We can not escape our memories, but we can escape the longing to eat freely---no holds barred.
We must now place restraints on our appetites. We must now moderate our portions. Every high calorie food we do consume will show up on the scale. We might reserve a day or two for feasting, but we have to budget our intake the days that follow, or even more wisely, the days that precede an occasion so that the scale does not penalize us. We are on a journey out of Egypt and into the Promise Land and we must have stronger memories to guide us on how good skinny feels, when compared to obesity.
We take the time to thank the Lord for showing us His Plan. We are grateful that restraint is now present in our life. We are doing what it takes to put the past behind us. We forget those foods that led to robbing us of normalcy in body weight. Gone is the fired chicken. The potato chips is no longer purchased. The banana splits is no longer a Sunday ritual in the family. This trek out of Egypt is well worth it as God delights to feed us our daily bread and we receive it with gratitude.
Lord God, weight loss is a great reward for our obedience. Help us to always remember that You are pleased with obedience. Thank You for setting us free. Amen
Posted at 01:10 am by editor
Permalink
Friday, October 12, 2007
Food For Thought Scripture #24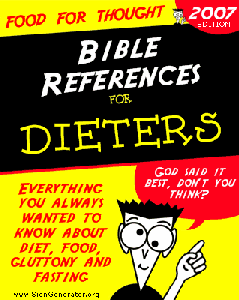 Est 4:3
And in every province, whithersoever the king's commandment and his decree came,
there
was
great mourning among the Jews, and fasting, and weeping, and wailing; and many lay in sackcloth and ashes.
Posted at 02:36 am by editor
Permalink
Wednesday, October 10, 2007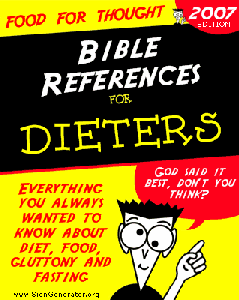 Herbs
"Cleanse me with hyssop, and I will be clean; wash me, and I will be whiter than snow." Psalm 51:7

Posted at 01:44 am by editor
Permalink
Monday, October 08, 2007
Rev 7:16
"They will not hunger
[any]
longer, nor by any means will they thirst
[any]
longer, nor will the sun fall
[fig., beat down]
on them, nor any heat. (ALT)
Today's reflection gives a bird's eye view of one of the delights of heaven. As dieters, it was not that we experienced hunger more than any other; it is that we focused and dwelled on hunger more than we ought to, if truth be told. We were obsessed with food to the point of obesity, more so than others. Our hunger was not genuine hunger but appetite out-of-control. We relish (no pun intended) that first day of our arrival in heaven where we will not hunger any longer. We will no longer have to get in our quota of daily water to tide us through, for we shall neither thirst. What a joyful day this will be when with what had consumed our thoughts, will no longer be a concern.
With the elimination of self and the putting on of the spirit, we shall no longer be bound to earthly and sensual lusts. We will no longer count calories and measure portions. We will no longer need the scale or the affirmation from others that we did good on our Plan today. God takes care of all these burdensome interests of ours by removing them. No wonder not a better word than heaven can be used to describe our eternal dwelling place. Halelujah!
Today we have the choice at hand to dwell in God's Presence by our worship and praise, or revert to the dining table to eat to our heart's "content." But we know now that food does not appease the deeper need within us for fulfillment. Only God can sustain and fill us. Let us look forward to our arrival in heaven, but in the meantime, let us dwell on the goodness of God in relieving us of overindulgence this day. Be alert! Stay in prayer! This is an ongoing battle while on earth in the body of a dieter.
Posted at 02:40 am by editor
Permalink
Friday, October 05, 2007
Food For Thought Scripture #23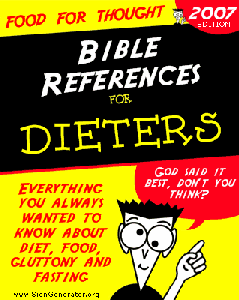 Neh 9:1 Now in the twenty and fourth day of this month the children of Israel were assembled with fasting, and with sackclothes, and earth upon them.
Posted at 03:02 am by editor
Permalink